Growing Development Opportunities in Nevada
The Lewis Group of Companies has been continuously and actively developing real estate in northern Nevada since 1972.  As a homebuilder, we built and sold over 4,500 houses in northern Nevada, and we were the largest (and we believe most respected) homebuilder in the region for many years prior to our sale of our homebuilding business.  Over the years we have been doing and continue to do land and income property development in northern Nevada.  We are well established and have a great team of people in Nevada, and combined with our reputation for quality development, we are well positioned to respond to real estate opportunities.
Northern Nevada presents a good opportunity for our company for a number of reasons.  From a company perspective, over the years we have benefited from having geographic diversification. Typically, economic conditions and real estate cycles are not always in sync throughout the country.  At any given time, one part of the country might be enjoying boom times while another is in a slump.
"We like the concept of not having 'all of our eggs in one basket,' and northern Nevada gives our company the ability to be working in an economy that differs from California." -Robert E. Lewis, President, Nevada Division, Lewis Management Corp.
What is so favorable about the northern Nevada economy at this time is that after having been one of the worst hit areas in the United States in the past recession, northern Nevada is now clearly on the road to recovery.  A good portion of the inventory of underwater or abandoned houses has been cleaned up.  House prices and rents have been increasing, house sales are strong, and vacancy rates for apartments are near a low of 2%.
The driver of this improvement is significant job growth in northern Nevada.  Tesla is underway with a 5 million square foot battery factory projected to employ 6,500 people.  There are a number of new data centers under construction including major ones for Apple and for Switch, which are bringing high tech jobs to the area.  Many firms from California are now considering relocating to Nevada due to its much friendlier regulatory environment.
---
How the Lewis Group of Companies is Responding
With significant job creation and thousands of new people projected to be moving into the area, we are responding to the opportunity with our new Harvest at Damonte Ranch apartment community currently under construction in Reno.  We also own land already approved for many more apartment communities.  Additionally, we are responding to the projected demand for new for-sale houses by purchasing about 130 acres of land in Sparks, which we will have available to sell to homebuilders within the next year.  What follows housing development generally is retail development.  Although currently there appears to be an oversupply of retail space in the market, we are anticipating that as new residents move in, there will be an increase in the demand for retail space.  For this reason, we are also gearing up to develop more retail space in the area.
Harvest at Damonte Ranch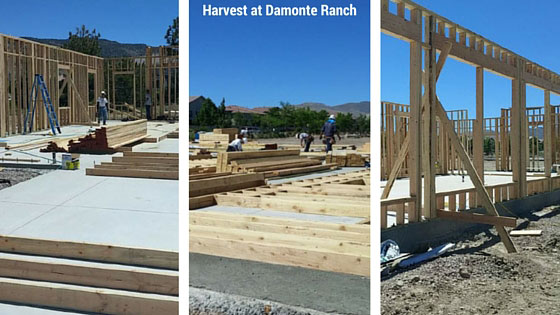 The Lewis Group of Companies' newest apartment community, Harvest at Damonte Ranch, is currently in construction in Reno, NV. Harvest at Damonte Ranch offers 1, 2, and 3 bedroom apartment homes that have been designed to accommodate any resident's potential needs and preferences.
"Reno is now becoming a "hot spot" for growth, and we are trying to construct our apartment product to be a part of this new arena." –Darlene Andrews, VP/NV Property Management of the Lewis Group of Companies
Harvest welcomes residents to a community of modern construction and style. In addition, Harvest encourages a shared, healthier lifestyle by providing opportunities for its residents such as community spaces like neighborhood parks and facilities, and healthy sustainability programs like energy efficiency and water conservation efforts.
Several additional Lewis neighborhood and community shopping centers in Reno, NV are in planning and development today.
Future/Proposed Project in Reno, Nevada:
Damonte Ranch Town Center II – 2016 131,000 sq. ft. Community Center
---
Lewis Apartment Communities has an excellent track record as a provider of customer service.